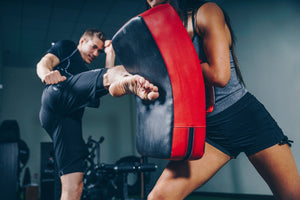 We offer high quality uniforms for Taekwondo, Karate, Hapkido, Kendo, Kenpo, Tang Soo Do, Judo and Ninja. You can even buy martial arts decorations and party supplies for your next get together. Take a look around and you will be surprised at all the martial arts supplies you will find.
Sparring gear is designed to keep you safe and healthy while you battle your opponents. These types of martial arts supplies are crafted from vinyl, plastic, fabric or dipped foam, and they provide a significant degree of protection to any fighter's face and body. Sparring gear comes in a range of designs, including chest protectors, mouth guards, groin protectors, gloves, shin guards, Kendo Armor, and head protectors (helmets). This type of gear is available for men, women and children.
Martial Arts Uniforms
To get the perfect look and the right performance, you need authentic martial arts uniforms that offer premium comfort, protection, and style. We have gi's for all shapes and sizes, include Karate uniforms, Kung Fu uniforms, Ninja suits, Tae Kwon Do uniforms, Judo Gi uniforms, Hapkido uniforms, demonstration/team suits, and Hakama, Keiogi for Kendo.
Accessories are also available, and these include martial arts belts and shoes.
The best way to find the right designs for you is to shop by your style. Find all examples of martial arts gi's, uniforms and accessories in that category and then examine their features. This method of comparison shopping should lead to a "short list" of preferred martial arts supplies. At this point, compare prices, consider your budget, and make a firm decision about what it best for you.
Other Martial Arts Equipment Options
In addition to the practical suggestions that we've outlined here, there are other options. For example, t-shirts, shields, targets and weapons are also available. As you can see, there are so many ways to improve your enjoyment of martial arts with the right supplies and equipment. To choose the best, browse around our site, as you'll be able to select the most affordable, well-made gear at our trustworthy Web-based store.